View Other Content
Recent Status Updates
Ah, review schedule all set now for TechieAnalyst
Play Warframe, is fun
SO ready for summer
Buying games.
Latest News
Jan 31 2013 10:14 PM | CoS_Ethan in
Articles
First off, I'd like to thank Techie, withtout his consent, I wouldn't have started the topic.
Hey all, I'm Ethan with Mechanist Games, a small video game developer. We're working on our debut title
CIty of Steam
.
If you've known of City of Steam and been keeping an eye on it since the game went public, be sure to sign up for our newsletter and keep your eye on our
dev journals
for up-to-date game development.
To those that don't know what City of Steam is (no surprise, we're pretty small, so getting widespread recognition is realtively harder for us). It's a browser-based MMORPG featuring a mix of industry fantasy and steampunk elements, lightweight enough to play smoothly even on non-gaming cmoputers and accessible straight from your browser. Even then, thanks to Unity 3D and a lot of in-house tools, we've managed to still make it look quite impressive and all stored in but a few megabytes. Move on to our
World page
to have a look at the world CoS is based upon.
For a better picture of the game, check our latest Closed Beta Trailer, a lot has changed and improved since then, but it can still give a good idea for what we plan to make of our game:
Edit:
Finally, the moment we've been waiting for: RELEASE DATE of the highly-anticipated "early admission" Beta version of City of Steam. For more test-related info, please read our official news post here:
http://cos.r2games.c...s/view/?id=1835
Thanks to your continuous support of our game, City of Steam has finally been approved on Valve's Greenlight approval system. We are thankful for everyone who voted for us and who spread the word! If you want to know more, you can find the full announcement here:
http://cos.r2games.c...s/view/?id=1731
We may be small, but we're pretty receptive to player feedback too, and strive to openly discuss the devleopment process. Feel free to drop me a line and I'l try my best to respond to any quesitons you may have.
Read story →
5 comments
Jan 31 2013 11:08 AM | RobbieNewton in
Articles
Grand Theft Auto V is coming 9.17.2013
http://rsg.ms/XV9cl2
That came from their official facebook. Really excited. Pushed back from Spring but that's not a bad thing. A game company taking time on a game rather than rushing development? That is excellent, I am excited for this.
If you want the words for the release date
Seventeenth of september, 2013.
Read story →
1 comments
Jan 26 2013 04:37 PM | techieanalyst in
Articles
It's been 6 years since we've seen a new SimCity game, a series that has influenced more generation of gamers than almost any other game to date. The first SimCity came out in 1989, at the time it was considered a fairly advanced game, something that offered what no other game offered, City Building and Management Simulation, something that you wouldn't at first consider fun, but I think that the original Designer, "Will Wright," had no idea his game would be one of the few that made it on almost every home computer and many classrooms.
The series over the years advanced, SimCity 2000 was a game that I enjoyed 100's of hours playing in the mid-90s, I don't think I played many other games quite as much as SimCity 2000. After SimCity 2000 came SimCity 3000, it was still a good game but I didn't feel it was addictive as SimCity 2000. After 3000 came SimCity 4 which has held well since its 2003 release, it introduced many new features, I know I've spent as much time playing it as I did SimCity 2000. After SimCity 4 we ended up with SimCity Societies, I felt this was like 3000, wasn't as addictive, I liked playing it but I may have put in 80 hours.
Now it brings us to what we are anticipating, a SimCity that has the addiction of 2000, but incorporates all the advancements and more in SimCity 4 and hope to receives more advanced city build like we see in other more advanced city builders, SimCity 5/2013?.
SimCity 5/2013 has a lot to live up to for many gamers, most are worried that it will be simplified to attract the masses, I personally pre ordered it literally the day you were able to pre order it because I was so excited. On January 25
th
2013 I received an e-mail about getting an invite to closed beta, I don't think it's rare, I think everyone in the world that applied ended up getting in.
I did the install at 2AM AST and played till roughly 6AM AST, the original was the tutorial which I'm going to skip telling you about and go to the actual game play.
When starting fresh you find yourself with a blank slate to start working from
First impressions:
Graphics: Maxed out all graphics settings under the Options panel, overall everything looks clean, obviously the best looking of the series a first glance
Interface: I would say this is the best interface of the series, and I like the interface better than the City XL Series, it's quick to get to where you need and everything's self-explanatory
Map Size: Seems small, I am hoping that you can get larger pieces of land for larger building
Now let's get past initial impressions and start seeing the mechanics of the game a bit.
Starting the game the first thing I want to do first is extend the roads from the highway and build a small foundation in which to base my future city on.
Obviously the first place to start is figuring out some road work and lay the foundation for the new city.
One of the first things I liked over the previous SimCity was the outlines which, helping you keep roads straight and a look at the big picture when designing your city. Also the larger the road the better density you have in your zones I'm reading hence why here I'm doing larger streets etc, remember this is about showing you something and making the city grow.
So in order to start the city and bring in some income we then need to build some.
The biggest difference you'll see here is the line goes on the outline of the streets and not just random large blocks like in previous games, as the game progress the empty space is used as you'll see in some of the other exampling screenshots.
The next thing I want to make sure of is water flow, this just comes to mind because of past sim games, in the tutorial you get to build an extra building which isn't available in the demo, here we can only use the Water Tower.
You'll notice the water system has been simplified by the removal of manually having to build the pipe networks, but the introduction of limited water supplies I believe was used to replace the pipe loss.
Water will automatically start flowing where it's needed, and you'll notice the information panel will show you some information on how much flow is going through the system, and the water pollution levels, pollution was in previous releases so nothing new there and I suspect that treatment will remain identical to previous releases.
Now you can watch the neighbor good grow some, you'll notice there's a lot of information, like before what makes sims happy and sad, small details though, you'll see break lights, and the people are actually walking somewhere.
The next step of course is power generation, like the previous SimCity games you have different types of power generating stations to work with, in the Beta we only have the Wind / Coal and Oil. Wind being the cleanest, but least efficient, upfront costs are much high than coat and oil, something else introduced in Simcity 5/2013 is how much Wind there is and how much power it can generate, adding more food for thought on what power type to use.
Something I noticed for the first time when placing a Coal Plant was the small red box, which seemed optional, at first I wasn't sure what it was so I placed my power plant in a fashion that would stop showing this extra box in red, and I will explain what it is later.
Once the plant is placed, I noticed a few things, the plant was Closed! Now Hiring, meaning until Sims are hired this plant is closed for business, I like this aspect personally. The next thing you'll notice on the properties screen is the Accept Local Coal Delivers and Accept Global Coal Deliveries, starting out I had to use the Accept Global Coal deliveries, this adds a cost but guarantees that the power of life gets supplied. Now the last two buttons, one power off, my guess is you would use this to save money, or when you have excess power, or possibly pollution problems. The next button is where my last command about that extra red box before placing the plant, this allows you to customize the building, and no this isn't a gimmick, it will allow you to add additional parts to the plant, these things actually add to capacity etc so it's not just an appearance thing, more of a Building Upgrades options. This is something new, and I really like the idea because it saves on valuable real estate. After your done, watch the power flow.
Of course the next thing in line is adding industry, early industry bring in money and job, but it also bring with it pollution, nobody wants to live near it so I put it out with the coal plant, they are all a match made in heaven. With the larger roads here you'll see that LARGE industry comes to town and fast.
After watching things grow some and adding some more zones, I worked some more on commercial, you know, the real money maker that also brings jobs, and a lot less pollution vs industry. Commercial is the more ideal zone as it brings in more money, less pollution and your sims need to be smarter to work there, also health risks, fire etc are less.
Once your city starts growing more your see that your Sims will start giving you some missions to boost your city and add to their general happiness.
The mechanics of the game seem to be straight forward, nothing difficult, youll see that I'm making some good money and the city is coming to life.
One thing in previous versions in the game that I sometimes found irritating was getting a good balance between keeping land desirable (aka valuable) and actually having services and grounds all covered, example keeping a plaza, school, fire, police and hospital, sometimes was a bit hard to juggle, leaving you sometimes in a position where you have services covered but the land value would suffer. Here in SimCity 5/2013 it was actually a bad idea for me to introduce a plaza to increase land value, what you will see is my busy little town gain some large houses, which of course have much higher requirements vs my little residents.
Rich sims start rushing in, which increases my income, but it also brings with it a quick death. In the demo I couldn't seem to deal with the sewage so I lost out on these sims. EDIT: It was the exit pipe I was looking for which is in the demo I thought it was looking for the treatment plant, this is my bad.
Now let's not leave out the basic services either. Previously in previous games youd need to build a new Fire station or a new Police Station to bring down crime, increase coverage etc, in the new SimCity the building customization actually makes these services make more sense.
And when a fire starts, not one can you follow the firefighters and the trust you'll also see them work to put it out. You'll also notice the lights whenever there is a fire.
As always we can't leave out the police station, same rule applies, you can make additions to increase the value of the station.
The beta doesn't cover all the features of the game, the tutorial does cover the Region options, this is a map where you get to work and trade with other cities, or establish other cities. Another new feature is the great project, which isn't available in the demo, I was going to cover some details that I noted in the tutorial but it's not relevant to discuss.
Performance wise I've only been playing it on my Alienware M18X R2 laptop with a pair of 680M Gtx's, at 1920x1080 with all graphics settings maxed I had great performance, only downfall was some texture issues which I believe are driver related but it didn't ruin the game play.
So as a gamer who can pretty much buy and play what he wants, will SimCity make it on my list?
SimCity is a game that hasn't been truly in my heart since SimCity 2000, I remember so much from it vs 3000 or even 4.
I will say I'm enjoying the Beta, I've found myself restarting a town on the same map more than once, I tried a number of mechanics and I enjoyed it every time more and more, this is a fun game, it has captured some nostalgic of the past. There are some areas where they simplified game play, but it does work.
Based on the Beta is the game worth buying? Yes it is, I don't regret my $79.99 Pre-Order, I would say this is the best SimCity since 2k.
Now another topic, Origin, most of the Steam crowd is still upset about having to go with a second Client to get your games, however here's the reality folks, Origin is here to stay, EA has one of the largest libraries of games of any publisher, and I don't skip on a great game over a client that's only using 66MBs of ram.
I will be the first to admit that I was expecting a dumbed down simulator, something that would appeal to the masses only and leave out the hardcore crowed, talking to a friend of mine from Austria right now who also expects the same outcome. Over the weekend I had the opportunity to play SimCity 2013/5, and I write a little article about it and my feelings, though I never addressed the possible dumb down of the product, simply stated it's not dumbed down, it's dropped a few old ideas and replaced them with new ones.
The Beta was not fully featured so I will be only covering what I experienced during the Beta.
Complexity Renewed
In the old Sims, you had to strategically work around growing your city to its maximum potential by doing everything from adding parks or decreasing traffic, realistically I've never seen a city drop 500 parks around to increase the value, the same still applies by increasing land value etc., but my test cities grew fairly well without focusing on park placement or where the next plaza would get dropped. SimCity 3000 and 4 had a fair amount of this which kept it fun, but I found there were only so many ways I could go about building my city.
The Road System
I played a few rounds without reviewing the pop up that explains about them, the first few rounds I couldn't figure out why I had issues keeping business staffed, or shoppers for commercial, same went with industry, I had plenty of people in the city, and my unemployment rate remained very low so what was I doing wrong?
Rebuilding city number three I started with the core city being large street off the highway, keeping commercial central for example, large streets then slowly expanded the streets into the less desirable ones as I moved out from the center, what I noticed was the Wealth of citizens was directly attributed as much with the road types as they were by their surroundings, almost like the road acted like a Wealth Limiter, same with commercial, and industry, the largest roads in the beta brought the largest industry, dirty but lots of work and easy money. Once I noted this building the city seemed more fun because I was able to focus more on where I wanted the different types of citizens to live, but you also need to worry about where they work, the low wealth citizens can't work at larger commercial so you end up with houses abandoned with the reason, "Ran out of Money". There's more here but as I said this is just the basics and the Beta.
Customizable Buildings:
I've heard so many times how this was just a gimmick, but it's probably one of the most useful gimmicks I've seen. In past SimCity's I remember having to place more Police Departments, more Fire Departments and more Hospitals in around heavily populated areas, fact is most cities only have one hospital, one Police Department and usually a couple Fire Houses. In SimCity 2013/5 the customizable Buildings feature is what I call bringing reality more forward, for example, I found the first and most essential service to introduce was the Fire Department, and I centralized it on the map hoping for the best coverage, after watching a few fires I noticed the fire engine could make it anywhere in the city, but only one fire at a time, so as the industry and residential expanded I had more fires and because balancing the budget really comes into effect here I couldn't afford to plop down more Fire Departments, that's when I noticed a small Chat Bubble above the Fire Department and I clicked on it, low and behold I was told that the Station couldn't handle the load, so it tells me to, "Add another Fire Truck", what was this you say? So I added it and there, problem solved, saving space, and money. The same applies for Police Department, and the Clinic, I can add more Police Patrols, Jail Cells, Ambulances or treatment rooms, and believe it or not the effects are noticeable in a great way.
Many buildings can be Customized but this was just a quick coverage of the ones I noted the most useful to edit in the game.
Buses / School Bus
Another feat I found, before you had to place the bus stops, they took up room on your map and forced you to re-design entire blocks in your city, well the new SimCity replaces that annoyance with what we see in the real world, the stops are part of the sidewalks, not taking up any additional space. Also you can do coverage far better, for example, my school bus stops are placed in residential areas, which covers the needs of education, and no sim is left behind, with buses I can place them anywhere, the system does work and just like other buildings you can customize by adding more buses etc. In the Beta they also made available a parking lot where the Sims can park their cars then take the bus. There is a downside, the more stops you add the longer your Sims wait for a bus, so you need more buses, just like in the real world.
Garbage Collection
I would like to see them implement the bus idea where you can set the routes but you don't get this option here. The garbage system is fairly impressive as well, you place it somewhere away from residential and medium up residential (Poor Sims seem to live with it and keep paying tax). The services run only at certain times and you can watch the trucks run around. Nothing too exciting but its fun watching the dynamics.
Sewage
The Beta doesn't provide all the options but manually running pipes have been removed, water towers act like a tower and a pump in one, sometimes a tower can pump polluted water though. You create exit pipes as a way to pull waste from the system.
So is the game dumbed down? Let me say this, I like the Hearts of Iron Series, Civilization, Master or Orion, Company of Heroes, something these titles have in common is complexity, and the new SimCity quenches' my thirst, so well in fact I played roughly 20 hours on the weekend and rebuild city after city.
SIDE THOUGHTS
Map Size: At first I was disappointed but after discovering the game dynamics I can say yes its a bit disappointing, but so much less land is wasted, also you end up building other cities in your region, so you'll have plenty to do.
To my Readers: Put it on your Must have list
Maxis: Great work
Read story →
0 comments
Dec 29 2012 05:49 PM | Chromie in
Articles
New forum and new layout it is time for a new review. If a Jedi chooses to embrace the dark side can they be considered fallen? Is the Force as pure as it seems? Are the Jedi really protectors of the Republic or are they wrong in their teachings? Star Wars Knights of the Old Republic II: The Sith Lords tackles all of these questions and more by deconstructing everything that makes Star Wars well Star Wars.
Knights of the Old Republic II takes place five years after the end of the first KOTOR game, and in a number of ways it surpasses its predecessor. The story focuses on a character known as the Jedi Exile, one of those who followed the Jedi Revan to war against the Mandalorians before the start of KOTOR 1. The Exile is the only Jedi who returned from the war effort — the Jedi Council had chosen not to fight the Mandalorians, and the Jedi who left with Revan were in open defiance of their leaders. At the end of the war, the Jedi who survived and had followed Revan to war fell to the Dark Side alongside Revan; only the Exile returned to face the council and turned away from war.
The Exile (canonically, the Exile is female, although you can choose a male character) was cast out of the Jedi Order after the events that ended the war — namely, the Exile ordered the use of a weapon that destroyed the planet Malachor V, turning it into a huge gravity well that destroyed the Mandalorians fleet, as well as many Republic ships. The war was won there, but with an incredible cost. As a result of being cast out of the Jedi Order, the Exile also lost her connection with the Force.
The game opens up and you are in space drifting on the Ebon Hawk the famous smuggler ship of Davik. The tutorial is played out and eventually you wake up as the Exile in the med bay of the Peragus Mining Facility. Quickly you will meet the multidimensional character that is the Kreia. Like the first game Kotor 2 will have you making decisions unlike the first game Kreia will constantly ask you to think because every action has a reaction. Do you help a homeless man? Well he may get mugged later. Do you choose to not help him? He grows stronger by mugging another. This is where Obsidian excelled by questioning the nature of right, wrong and if it's better to remain neutral and watch events fold.
If you like roleplaying games or if you like Star Wars this is the quintessential Star Wars game. Never has a Star Wars game questions the very nature of the Force, teachings of the Jedi and anything else important to the tenants of Star Wars. Kreia's teachings are a stark contrast to everything Obi-Wan and Yoda believe in. She questions the very foundation of the Jedi teachings and her instruction poses some extremely poignant moral questions. At the heart are the events at Malachor V and their direct consequence, the Jedi Civil War — in which Revan and his apprentice Malak returned to the Republic and nearly destroyed it. Lots of people died because a pair of Jedi and their followers thought the only way to save people was to go to war, and they wound up being worse than the thing they were trying to stop.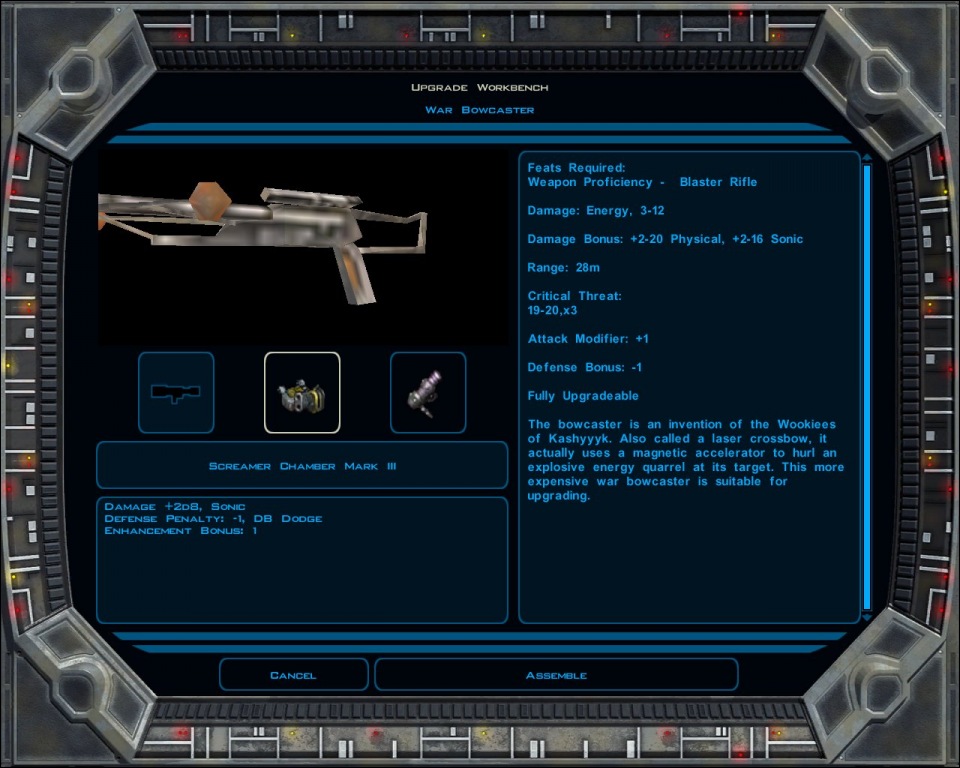 There are some great new additions to the gameplay. Crafting is in and allows for a lot of freedom. You can break down pretty much anything into chemicals or components which can be used to make armor, weapons, shields, upgrades, grenades, med kits and more. Unfortunately, a lot of the armor and weapons you can make aren't so great but the consumable items always are. It's never frustrating because you don't have to spend time gathering materials in a limited inventory and going to different places to get a certain type of material a la Dragon Age. Combat of course has received some upgrades like Force and Saber forms, which allow buffs such as regenerating force points quickly in combat or improved blaster deflection. These are unlocked as you level up and Kreia even teaches how to better handle them like a true teacher. After certain points in the story you can even unlock some abilities like Precognition which serves as a warning for a tough encounter or Beast Mastery which allows for mind control over weak animals. You can even choose a prestige class further down the road with its own special ability that greatly enhances the Exile.
My favorite addition to the franchise is the loyalty system. You will have companions with you and you will make decisions that much is assured. Your companions however will react to your decisions or even to just a simple conversation. Get their loyalty high enough and you will be award with some great backstory that should be a reward in itself but nope some companions give your permanent attributes or skill points and others can give you new abilities. High enough loyalty can even change your companion's alignment from light to dark and vice versa but best of all you can put all that teaching you receive to good use. Now there are complaints of this system being to transparent and not giving enough warning when you will make a decision that pisses off your companion but I welcome that.
(Droid Factory courtsey of TSLRCM 1.8)
Kotor 2 is not perfect though. It suffers from many bugs and most of all missing content. This is where the Sith Lords Restored Content Mod matters. Many game breaking bugs are finally fixed but most importantly the missing content is in. An entire mission for HK-47 that finishes the subplot of the HK-51 assassin droids, many characters will have even more dialogue and little things to show that the crew you pick is alive and have lives that play out. Still it is not the most stable game and modding the game to support 16:10 resolutions is a pain. I also strongly urge people to keep multiple saves because you never know when you will crash. I myself only crashed about three times on a 60-hour play through but I never suffered anything game breaking. The game also has problems with ATI cards turning on V-Sync can cause the frame rate to drop not matter how powerful your PC is and there are a few places you will encounter graphic bugs.
Obsidian's first game came out in 2005 and may seem dated by today's standards but it's a game any rpg fan needs to play. It shows how even an old IP like Star Wars can still have stories to tell that are not the same old thing. It shows just how wonderful the PC community is and best of all it is a damn good game.
For those who I've convinced here you go:
The Sith Lords Restorec Content Mod 1.8 Full
TSLRCM Compatability List
Characters Done Right: Kreia
Read story →
0 comments
Jan 05 2013 04:28 AM | SgtFopper in
Articles
And this is especially for our Techie-boss. You know we love you, right? ;-)
Techie,
Techie, we love ya
Techie, we love ya
That's for sure and this never never never never eeeends...
Read story →
2 comments
Jan 04 2013 07:07 PM | SgtFopper in
Articles
Hello TechieAnalyst fellows out there!
In this short time I became a hugh fan of the this new forum site. And some of you which are be friends with me on Steam know that I love start giveaways and the Steam Community, as well.
I also already started a small one two days ago to test this out - successfully. So now I thought about again and decided to start a bunch of more giveaways in future on this site. I will start several kinds of giveaways like these ones:
TA user stage giveaways => if the techie site will reach specific member stages like 200 members then there will follow a giveaway (next: 350 / 500 / 700 / 850 / 1000 etc.)
random giveaways => it depends on my mood.
event giveaways => if happens something whatever it is I'll start giveaways then
user wished giveaways => if an user ask me at the right time for a giveaway I will start one as it fits to me
I always will announce a giveaway before the start (hours/days). But sometimes spontaneous, as well.
I am also pleased if you can give me some feedback to make this giveaway thing better for me and .. you in future, of course. I will also credit Steamkey or Steamgift donators in these giveaways if I get some to give away to you.
The "tasks" in my giveaways are different. Some months ago I started some interesting giveaways where the "community" have to solve some questions or tasks to create new tasks to "reach the final step" for a win.
Here
a short description of my special "community-like" giveaways. And I also will try some new sort of giveaway task - but info will follow later as the announcement are made by me.
Having said this; I want to say again "thank you" to the founder and admins behind the whole TechieAnalst site that I am a happy member and mod here. Like I said before in the chat to Robbie:
The techie site is like the *"Wimbledon living room" for me.
*Boris Becker always said that Wimbledon was his "living room"!
Greetings
SgtFopper
Read story →
0 comments
Jan 01 2013 04:52 AM | GameZ in
Articles
Tony Hawk's Pro Skater HD
Read story →
3 comments
Dec 27 2012 03:34 PM | SgtFopper in
Articles
Hello Steam Community and NOW also the Techie friends! ;-)
Every Steam user today is very familiar with Steam achievements, but not that many appreciate them. But they are a Steamworks-feature, which constantly grows in its importance – maybe not for a constantly increasing amount of Steam users, but from a financial point of view for developers as well as Steam/Valve.
First short and most recent statistics about Steam Achievements:
In 2011, around 140 million* Steam achievements were unlocked (Steamworks Brochure 2011)
*more sources later
Leading Steam Achievement-Hunter have unlocked more than 10000 Steam achievements so far
Babysteps
My first contact with Steam achievements was 2008 with Left 4 Dead. At first, I began to get engaged with the game and its parts, that includes Steam itself, which was rather strange to me before Left 4 Dead.
Around mid 2009 I met a friend, who then slowly but constantly collected Left 4 Dead Steam achievements with me and that made me interested with this topic as well. My friend also had the oh-so-great tip, that we could just use the console to cheat some of those achievements, BUT I was against that option and that started my love of Steam achievements.
At this point, I decided to get from as many games as many Steam achievements as possible. At this point, I didn't have any idea about pages like
AStats
or
zr40
.
Then I had the idea, I could just make my own Steam achievements-forum, which I then proudly announced in other forums. About half a year later, I canceled the project due the lack of time and motivation. My idea was simply to have many friends of the Steam achievements together and let them share ideas...
However, another friend then showed the page Astats to me, which was created by a dutchman and is nowadays a highly appreciated and liked website for SA-Hunter – just as myself. This page offers every kind of statistic any user can think of:
How many user have how many achievements unlocked, variation of worth of achievements (commonly or rarely unlocked), rankings in varying categories, a own profile with unlocked achievements, personal scores (depending on the worth), comparing with friends etc...
It didn't get easier!
When I got more used to that page, I knew that the journey is the reward. I WANT TO UNLOCK 10000 STEAM ACHIEVEMENTS!
As a small, additional information: For many, who then also heard that when I finally got 10000 achievements I would step back from my Gamer-carrier, thought that this would be a stupid idea. I have to admit – after a long time of thinking – that this kind of announcement was kind of too "firm", but I stuck to it. When I reached my goal, it would be over. Currently, I got only about 2000 achievements and it probably take several years, if it ever happens. But to keep up with the ten to twenty leading hunters is in any case not an easy task and because of that, I decided to take it slowly and look at the whole thing with joy...
Missed potential?
The original reason, why I started to write this column, is an entirely different one. I am, as I already mentioned above, a friend of collecting Steam achievements. But for about a year, I also started to watch the things around them eagerly. When I regularly read in similar forums, I always notice how modest or deprecating people talk about them. Comments like how Steam achievements are a total fail-feature and a pure waste of time. Or that the worth of Steam achievements is simply overrated and just don't over a longtime motivation. I respect such an opinion and don't want to force anyone to unlock them. But I think I should note the other (positive) thought about them.
I am convinced that Steam achievements recently gained "worth", which, even it's hidden and "underestimated", has to be in many ways positive viewed at.
It's simple:
If you're in a circle of the Steam Achievement-Hunter or even count yourself towards them, you're willing to get games WITH Steam achievements you previously would've avoided because they weren't interesting enough or you never heard or seen anything from these games. You buy the game and notice during the collecting of these games that you might like the game – despite the previous dislike. I know that phenomenon myself with the examples of
Bejeweled 3
,
Faerie Solitaire
or even
Psychonauts
.
Now I really did buy that game, which was rather alien and apparently disliked to me, played it and I had fun with it. The effect: The financial win for the developer, publisher AND also fro the gamer himself. And because I am not the only Steam achievement-friend and we might be able to transfer this in bigger measurement to the Steam achievement-community (and the constantly growing number of new Steam user), then you can imagine, how "effective" this can be. You find new "favorites" - thanks to the Steam achievements – and the money – for example for indie-developers, which have games with Steam achievements – flows.
You can throw any bad word at me, say how senseless and naive my thoughts are – and how still millions of Steam user hate the achievements, but they are lucrative-underestimated and it won't change, they fulfill their purpose – financially.
Valve and "their" Steam achievements-forum
What was the original idea of Valve behind the Steam Achievements when they were introduced first – with Half Life 2, if I remember correctly but I can't say for sure. But they will know – more or less, that they are well-meant "bait" and that they should expand on them – hopefully.
Valves own handling of Steam achievements in the Steamcommunity is rather simply and modest – a few statistic-options, no worth of the achievements, rankings. There is just a list of locked and unlocked achievements with the option to compare them with friends. And then there is a global statistic of the unlocked achievements with a percentage. But maybe they work secretly on an upgrade of the Steam achievement handling for the Steam Community.
The end...
So, I now gave away my knowledge of Steam achievements and I hope, that you at least had some fun reading it. I just wanted to show that you can even have fun with Steam achievements or that there is a financial gain, even if that is more of a taboo to talk about. You're encouraged to leave me comments – criticism of any kind. I am even willing to learn a thing or two.
Having said this – the hunt goes on.
SgtFopper
------------------------------------------------------------------------------------------------------------------------------
Big thanks go to Bindal for the german-to-english translation.
------------------------------------------------------------------------------------------------------------------------------
Read story →
1 comments
Need for Speed: Hot Pursuit
Read story →
1 comments
Off-Road Drive
Read story →
0 comments
Homepage